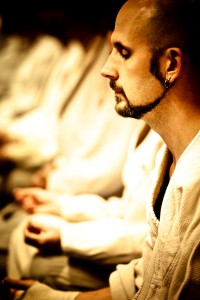 Ki Meditation is a unique blend of breathing exercises, stretching, and meditation to help you relax, become more flexible, and to harness your inner energy.
Martial artists traditionally practiced meditation techniques as part of their daily training, to overcoming the fears and anxieties they might experience in battle.   Though we may never be confronted by a physical attack, the majority of us are regularly struck down by fear, stress and anxiety.
Meditation can help to counteract the stress response.  It does this by slowing heart rate, improving oxygen consumption, rebalancing hormones, settling the mind and boosting energy levels.  Simply sitting quietly by yourself and bringing your attention to your breath is a great way to start reaping the benefits of meditation.
Meditation is not just a simple relaxation technique as some magazines seem to espouse.  One might feel relaxed after meditating, but it is much more about wakefulness.  This means moving beyond simply turning the volume down on our lives and really waking up to our full and unlimited potential.  At a fundamental level, meditation is about understanding ourselves, our relationship to others and to the world outside.
A meditation class provides access to meditation techniques as well as helping to provide the support and discipline to make this a healthy habit. Meditation classes in London take place throughout the week and offer protected time and space for you to develop your meditation practice.
Journalist Paul Brooks who attends Ki Meditation classes in London says, "The deep breathing exercises and gentle movements have a genuine calming effect and I consider what I have learnt and continue to learn in ki class a necessary life tool. It's like finding a place of calm in the centre of a whirlwind and I now have the ability to find that quiet space within myself regardless of where I am or what I'm doing."