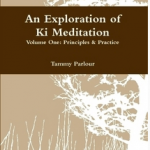 An Exploration of Ki Meditation (Volume One)
by Tammy Parlour
Drawing on the wisdom of Grandmaster Gedo Chang, British instructor Tammy Parlour reflects on the principles and practice of Ki Meditation.
Citing personal experience, she illustrates the modern day applicability of this ancient Korean system.
This book is an accessible guide to Ki Meditation training which will be of interest to both novices and more experienced practitioners.
(Click here to buy print version £9.95)
(Click here to download as ebook £7.95)
CHA Branded Clothing
Our 'CHA works committee' source branded clothing at specific points in the year.  All proceeds go toward the upkeep of our mats.  Ask your instructor for more information.

Uniforms
Uniforms can be purchased from your instructor.
Full uniform – £40
Trousers only – £25

Coming soon…or at least next…
Strength & Conditioning for Hapkido 
An Exploration of Ki Meditation (Volume Two)