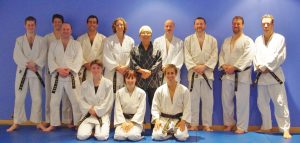 Being a black belt is about more than being physically proficient. A black belt is a role model, a leader within the school and someone who gives back to others. 
At our martial art school we follow traditional Korean practice. Black belts are referred to as Mr. or Ms. and their last name. More senior black belts also hold the following rank:
2nd dan = Assistant Instructor = Jo-saboumnim
3rd dan = Deputy Instructor = Boo-saboumnim
4th dan = Internationally recognised instructor level = Saboumnim (pronounced sob – bum – nim). Saboumnim means 'teacher'. To differentiate between one instructor and another, use the last name, for example: Jones Saboumnim.
5th dan = Junior Master. Has authority to grade students.
6th dan (and above) = Independent Master = Kwanjangnim (pronounced kwan – jahng – nim). Kwan-jang-nim means 'school owner'.  Our school/style is 'Wol Ge Kwan'.
---
Our Hapkido Black Belts
Justin Presser
Ricardo Pacheco
Sirvan Can
Richard Cox
Chris Hardy
Duncan Horn
Paul Brooks
Ben Smith
Chris Lee Tan
Sharon Lougher
Vladimir Tinine
Paul Murray
Eile Gibson
Michaela Lutz
Douglas Paul
Ben Cattaneo
Anna Forberg
Lukasz Wisniowski
Tim Barlow
Kevin Fox
Dmitry Lekhin
Tanith Bunce
Ian Carrier

Michael Watson
Chur Poon
Anna Glover