The martial art of Hapkido in London
Classes are taught in the Southwark district of London (SE1) less than a 10 min walk from Waterloo, Blackfriars and Southwark stations.
Click here for a map and directions.
All our London martial arts and meditation classes are taught by our head instructor ensuring students receive quality and consistent instruction no matter which time you attend.
*Please note that our London Hapkido school is predominantly an adult environment, but children over 15 years old are welcome to join.
---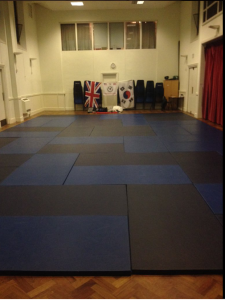 John Marshall Hall
(attached to Christ Church)
27 Blackfriars Rd, Southwark,
London, SE1 8NY
TUBE: Blackfriars, Waterloo, Southwark
To access the John Marshall Hall, walk around the left-hand side of the church building. Entry to the hall is through a double door with one small square window – we usually have our sign outside. Press the silver buzzer to the right of the door and we'll let you in.