Our Hapkido Master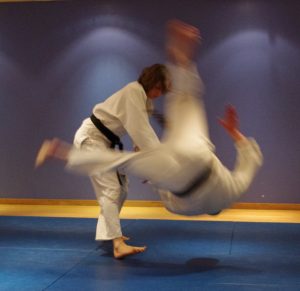 I started training under first generation Hapkido Grandmaster Gedo Chang when I was 13 and have remained a student of his for over 40 years.  I set up Chang's Hapkido Academy UK in the early 90s and run our London school.
Aside from the enjoyment I get from being physically active, one thing that draws me to Hapkido is the constant learning it provides.  It challenges me physically, but has also pushed me to grow and develop in every aspect of my life.  As an instructor I aim to create an environment which supports my students' growth and encourages them to express themselves more fully.
I have written a book on Ki Meditation, hold a Master's degree in strength & conditioning and have pursued post-graduate study into Applied Sport Psychology. My background is as a learning & development professional, and I am currently CEO of a national sports charity which I co-founded following the London Olympics. I was awarded an MBE in the New Year 2019 Honours List for services to gender equality in sport.
Master Tammy Parlour MBE
---
Articles/info on Master Parlour and the London school

Master Parlour features in BBC Woman's Hour Power List – 28 March 2023 – list of 30 UK women in sport who have had the most significant impact over the last year – read here.
Master Parlour in BBC Sport article and Marketing Week in January 2020
Master Parlour was a judge on the BT Sport Action Woman Awards 2019
Master Parlour was awarded an MBE in the New Year 2019 Honours List for services to gender equality in sport
Interviewed as part of the Leaders XX Series, 8 October 2018
Fightmasters series. Filmed circa 2006 but released Feb 2018
Kudos Sport interview with Tammy Parlour, 17 July 2017
Master Parlour features in the 'Top 20 most influential women in British sport' . The Telegraph, 19 June 2017.
Master Parlour sits on the BBC's 100 women steering group (2017).
Exhibition Celebrating the Unsung Heroes of LGBT+ History. Tammy Parlour and her partner were included for their work in women's sport. Read more about the exhibition here. See a pdf of the exhibition here. 19 February 2017
Episode One: Master Tammy Parlour, The All Things Risk Podcast, 24 Jan 2016
Sure beats a spin class, Metro UK, May 2015
'Awe Inspiring Women' series (part of the Volvo film competition). Tammy Parlour
Martial arts and the mind, The Wellcome Trust, June 2012
How to overcome stress with meditation, Metro, March 2011
Finding the Ki to happiness, Kindred Spirit Magazine, May/June 2009
Hapkido (aka Lady Kungfu), Hong Kong Legends DVD – Special Feature, 2006
Martial heritage seminar, Martial Arts Illustrated, October 2006
London Metro Article, November 2004
Interview with Hapkido Instructor Tammy Parlour, TKD & Korean Martial Arts, Oct 2002
 Interview with Grandmaster Chang, Tammy Parlour, TKD & Korean Martial Arts, April 1999
Two of our black belts discuss the benefits of Hapkido outside the dojang, May 2016. Listen here.
'Sacred Spaces – The place where one practises the way', Blog, December 2015.
The power of deliberate practice, Blog, September 2012.
Compassion in martial arts training, Blog, June 2012
Developing power by overcoming fear, Combat Magazine, March 2008
The Key to Performing Expertly, TKD & Korean Martial Arts, December 2001
Awakening to Hapkido Philosophy, TKD & Korean Martial Arts, July 1999
Ship Up, or Shape Out, TKD & Korean Martial Arts, January 1997
Train for the Present, TKD & Korean Martial Arts, January 1997
Hapkido World, TKD & Korean Martial Arts, November 1996
Excellence is a Habit, TKD & Korean Martial Arts, September 1996