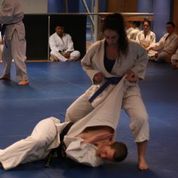 I cannot recommend this highly enough!
I first joined Chang's Hapkido Academy when I was 15 – it was a fantastic place to get fit, meet new people and increase my confidence levels.
Sadly, I had to leave when I moved out of London for University – while I was away I tried a number of other martial art schools (sulkido/tkd/judo) but that just really made me realise what I had left behind: nothing even came close to this club – the quality of instruction, the friendliness, the culture…
So, the second I moved back to London I went straight back to CHA and started from scratch again as a white belt! I have been back for about 2 years now.
So why join CHA…?
The ethos: The class is so polite and disciplined and non-competitive. It means there's a strong emphasis on technique and personal development. All ages and abilities are welcome and everyone can get a lot out of it. I've never felt at risk of injury. The club is well-matched gender wise and completely female-friendly. The ki sessions and general life-lessons that are imparted on the way also start to have a positive impact on the rest of your life.
The instructor: Master Parlour is brilliant! No where else will you get such a level of individual attention and dedication. The supporting black-belts are also fantastic. You never go a class without coming away with something new. Really inspirational.
The martial art: A total mix of techniques (punches, kicks, sparring, throws, locks), never stagnating or dull, always something new to learn.
The people: Everyone is so friendly, supportive and encouraging. It makes it a really easy, relaxed environment. You get to experience a range of diffierent opponents and body-types, too, which helps hone the skills!
The club operates in two locations, all in easy reach of the city. Definitely give it a try for one or two classes to see if its for you!
Pip
Philippa Harris, Solicitor