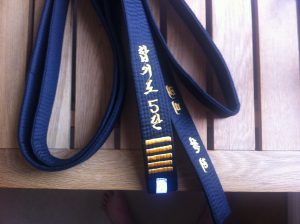 July, 2013
Last weekend I was presented with my 5th degree black belt. Many of my students have asked how it feels – I'm not sure I totally know yet, but here are some initial thoughts…
As with every new level one gets a new belt. My 4th degree belt had been worn for almost nine years. It was frayed with age; and it felt familiar. My new belt feels very different. It's stiff and crisp; and I feel we're yet to be fully acquainted.
I've been training in Hapkido now for 31 years, but the newness of the belt makes me feel somewhat like a beginner again. I'm looking forward to discovering what my 5th Dan self will be like, and I feel a huge sense of responsibility to be both worthy of the rank and the CHA students that I teach.
One student who was at the ceremony commented, "It's great to know that even having committed most of your life to hapkido you can still find new heights to attain and work towards."
Hapkido has always been that to me – a life long journey that continues to motivate me. I look forward to the next 30 years.
Out with the old, in with the new